The following stories about successful cases getting scholarships from East Asia University of Technology will strongly motivate and inspire those who are still hesitant to choose our university in the future.
Application for a college scholarship is not an easy decision but reflects a part of who you are. Here is one of my favorite quotes excerpted from a shared post: "You wanted the reward and not the struggle. You wanted the result and not the process. You were in love not with the fight but only the victory. But life doesn't work that way. It is a simple rule of life that the depth of your struggle will define the height of your success". We quoted typical stories of young people who dare to write, dare to dream and affirm their right choices at East Asia University of Technology. Their stories of applying for a college scholarship will empower many others.
The story of Nguyen Thi Phuong Thao – Ngo Le Tan High School (Binh Dinh) will surely motivate young people in Southern Vietnam to study in Hanoi: "As a student trusted by the teacher, on the day of career orientation activities, the Vice Principal asked me: Thao, what are your aspirations? Do you choose your dream school yet? If you feel hesitate because of high tuition fee, just tell me. I was deeply moved at that moment and frankly shared my thoughts with him: I would like to apply for the Marketing degree of East Asia University of Technology in Hanoi, sir. He seemed so surprised."
"Then I continued: I know that I was born in a farming family, where my parents mainly worked on farms for a living. It would be so difficult for me to travel more than 1000km from Binh Dinh to Hanoi, but I know clearly what I am doing. As I found out, EAUT offers many scholarships for high-school students and I want to give it a try. In the upcoming orientation days, I will write about my aspirations. I have a strong passion in public speaking. I gained my confidence and experience after being an MC at school activities or a leader for ten years. I think marketing will be a right decision."
As for the student of Ha Tinh Gifted High School (Ha Tinh) – Vo Tuan Anh, there are two most important things that we can never go wrong: "Choose the right profession to do and choose the right person to marry": "For me, it is necessary to choose a suitable career because I understand the importance of career orientation from early ages. I became curious about my future job when I was just a young man entering the doors of high school. So what was your choice? I decided to pursue the "Food Technology Industry". I would like to become an expert in food research and directly create quality products that are good for consumers' health. I also had difficult time to make this final decision because my understanding of this industry at that time was little and limited."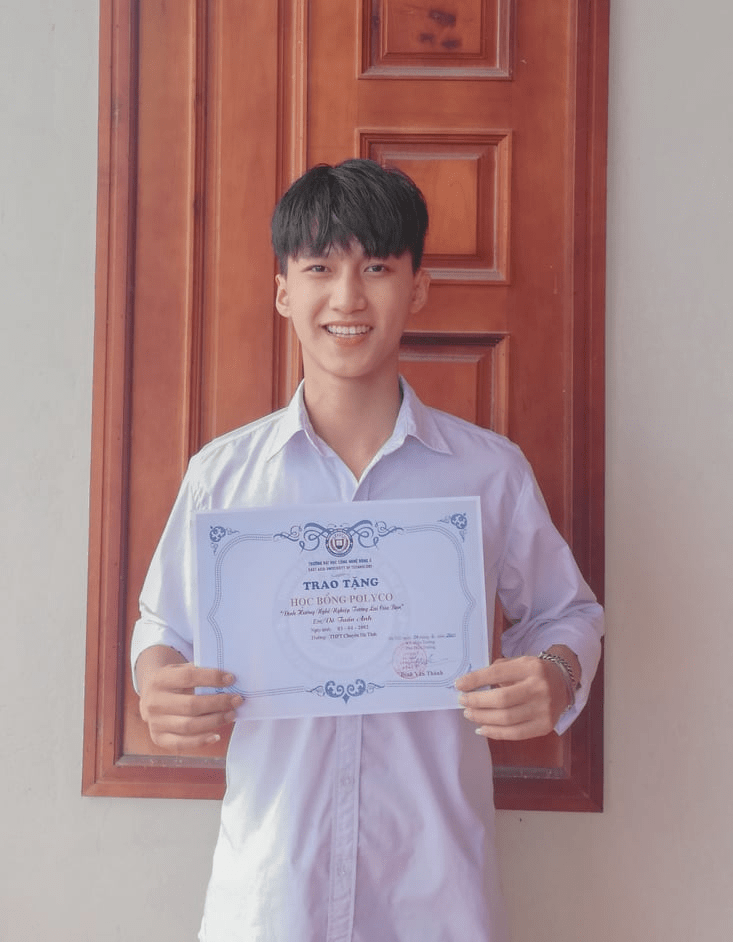 Vo Tuan Anh is not just a handsome face, he also studied in Ha Tinh High Schools for the Gifted
"However, nearly 6 months after deciding to choose this industry, from information on the Internet as well as consultation from my family and teachers, I love this industry more and more, I find that it is the job that worths pursuing. It is still a long journey for me to reach my dream, and I know I have to try my best to take the steps to attain that goal. There's an old saying: "slow but solid", which I completely agree. I hope I am able to study in Food Technology at East Asia University of Technology to pursue my passion and dream."
The story of Nguyen Thanh Binh – Thanh Mien High School (Hai Duong): "I remember that on 05 October 2019, at the beginning of the new school year, my class held a class meeting on the topic of "University of your dream and future career". Everyone was very excited, they talked about which university that they intended to register. At that time, I really didn't want to share my opinion, partly, my plan was slightly different from others, and I also didn't want to share my dream with anyone. But in the end, I boldly cried aloud: "I desire to enter the faculty of Business Administration at East Asia University of Technology!". Everyone in class laughed at me, they whispered and commented. The teacher asked me the reason why I chose this university instead of a better-known one. Honestly, at that time, after their whispers and comments, I did not hesitate anymore. When enrolled in 10th grade, I also oriented to take an exam to a famous university, with the thought that everything at a well-known university is good, and right after graduation, I would get a job, especially high salary. But all things have changed when I realized that my sister's job was not as expected, after she graduated from a widely considered prestigious university. Personally, I do not differentiate between public or private university, because if I study at a public university and I am still unemployed, it would make no difference."
Nguyen Thanh Binh – Thanh Mien High school (Hai Duong) confidently conquers scholarships with an impressive career orientation article
When you are confident, you are worthy to win the East Asia University of Technology's scholarship. Your confidence and belief will determine your success. Therefore, select a wise choice to motivate you to strive.
POLYCO SCHOLARSHIP – STEADY STEPS IN THE FUTURE
EAUT-SKY Scholarship: 100% free tuition, up to VND 64,000,000:
– Achieve National High School exam score of 24 points or more.
– Achieve the title of excellent students at the provincial or city level.
EAUT-STAR Scholarship:
– Donate 50%, 70%, 100% of tuition fee of the first year to High school students with excellent career orientation articles. Email to receive articles: tuyensinh@eaut.edu.vn before 01 May.